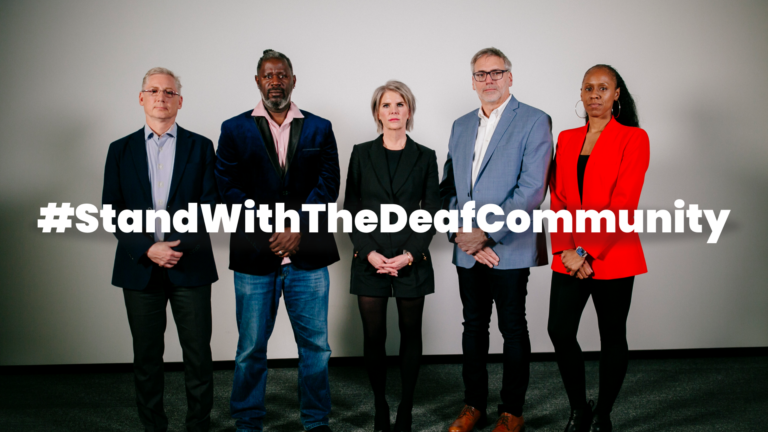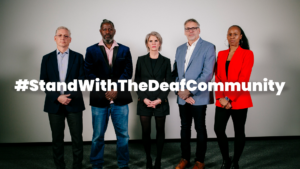 AUSTIN, Texas, May 10, 2023 /PRNewswire/ — ZP Better Together CEO Sherri Turpin launched the #StandWithTheDeafCommunity campaign to raise awareness of the communication inequities faced by deaf and hard of hearing Americans. The campaign aims to bring change to the Federal Communications Commission (FCC), allowing deaf and hard of hearing VRS (Video Relay Service) users to have equal telecommunications rights, including geolocating for emergency services and having one phone number for both texting and calling.
The #StandWithTheDeafCommunity campaign launched with a documentary film featuring Storm Smith and Warren "Wawa" Snipe, who are prominent community members and artists, produced by TBD Media. Deaf community leaders Greg Hlibok, former Chief of the FCC Disability Rights Office, and Chris Wagner, former President of the National Association of the Deaf are also featured in the powerful and compelling film.
Smith is an acclaimed deaf actress and model who has broken down barriers in the entertainment industry and become a powerful voice for the deaf community. Snipe is a renowned deaf rapper and musician who has brought his unique talents to stages around the world and inspired countless individuals to pursue their dreams.
Their participation in the #StandWithTheDeafCommunity campaign highlights the critical role that deaf and hard of hearing individuals play in shaping society and underscores the urgent need for communication equity.
Behind the scenes, Tate Tullier Photography captured the essence of the campaign, while CBS provided the platform and streaming services for a powerful and compelling video that showcases the importance of equal access to communication technology.
As an on-set consultant for the project, dozanü innovations is proud to have contributed to this important initiative with our brand messaging and accessible marketing experts, aligning with their core value of accessible and universal marketing. The diverse community efforts included in the production of the film are dedicated to breaking down communication barriers and promoting equal access to technology and services for all.
Katherine Lees, the CEO of dozanü innovations, says, "As advocates for equality and inclusivity in marketing, we at dozanü innovations are grateful to have contributed to the #StandWithTheDeafCommunity campaign as on-set consultants. We firmly believe in the importance of breaking down communication barriers and promoting equal access to technology and services for the deaf and hard of hearing community. It is our hope that this campaign will serve as a catalyst for further progress towards communication equity for all Americans."
The #StandWithTheDeafCommunity campaign is a critical step in the fight for communication equity, urging the FCC to take action to ensure all Americans have equal access to essential services and technologies.
For more information on the #StandWithTheDeafCommunity campaign and to view the documentary, visit https://cbsn.ws/3NX1URG or https://bit.ly/44V4Ap8.
Media Contact:
dozanü innovations
323.287.5685
@dozanuinnovations
SOURCE: dozanü innovations, LLC