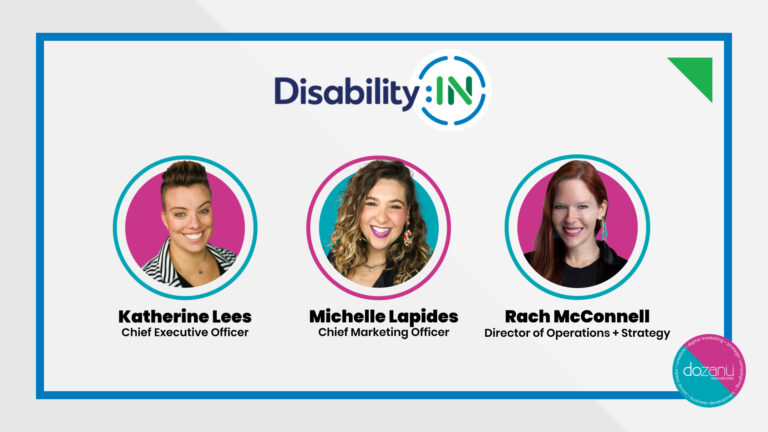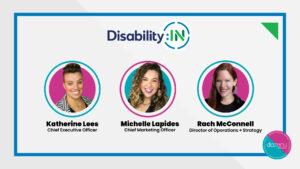 AUSTIN, Texas – June 28, 2023 –  dozanü innovations, the pioneering marketing agency dedicated to promoting accessibility and inclusion, is thrilled to announce their participation as thought leaders at the upcoming Disability:IN Conference in Orlando from July 10-13. As registered attendees, dozanü will leverage their expertise to contribute to universal access in marketing and messaging, reinforcing their position as leaders in accessible marketing and related topics.
The Disability:IN Conference is a highly anticipated event that brings together industry leaders, professionals, and advocates from around the world to advance disability inclusion and accessibility in the workplace and society. With sessions, workshops, and networking opportunities, the conference equips attendees with knowledge and tools to create inclusive environments for people with disabilities. This benefits individuals, businesses, and society as a whole, as embracing disability inclusion leads to a wider talent pool, access to new consumer markets, and innovation through diverse perspectives.
At the conference, dozanü will connect with like-minded professionals, share knowledge, and build meaningful relationships. Their commitment to accessible marketing is exemplified by spearheading the "Make 2023 Accessible" movement, urging businesses to embrace inclusive marketing strategies. By attending the Disability:IN Conference, dozanü aims to amplify their impact and inspire businesses to prioritize inclusive practices and create lasting connections.
"Accessible marketing is no longer an option but a necessity for businesses in today's landscape. As thought leaders, attending the Disability:IN Conference allows us to advocate for universal access in marketing," said Michelle Lapides, Chief of Marketing & Branding at dozanü innovations. "We are excited to network, engage in meaningful discussions, and contribute to the collective knowledge in this vital field. Additionally, by meeting with the dozanü team at the conference, you have the opportunity to become a change agent and team player in the realm of accessible marketing and inclusive messaging. Engaging with us will allow you to collaborate with industry leaders and be part of the collective effort to drive positive change and create more inclusive marketing practices. Together, we can shape a future where accessibility is prioritized, diverse audiences are effectively reached, and barriers are dismantled."
As a recognized thought leader in accessible marketing, dozanü has consistently delivered transformative campaigns that exemplify the power of inclusive marketing. By encompassing inclusive website design, accessible content creation, and culturally sensitive messaging, dozanü has paved the way for businesses to engage with audiences of all abilities and backgrounds, fostering deeper connections and driving sustainable growth.
dozanü actively contributes to industry events and conferences, sharing their extensive knowledge and insights to raise awareness and empower businesses to embrace accessible marketing practices. Through their presence at the Disability:IN Conference, dozanü seeks to inspire attendees and ignite change, promoting a more inclusive industry that values diversity and recognizes the importance of accessible marketing.
To learn more about accessible marketing and how dozanü innovations can help your business create inclusive campaigns, please visit www.dozanu.com/accessible-marketing-2023 or email [email protected].
Media Contact:
dozanü innovations
323.287.5685
@dozanuinnovations