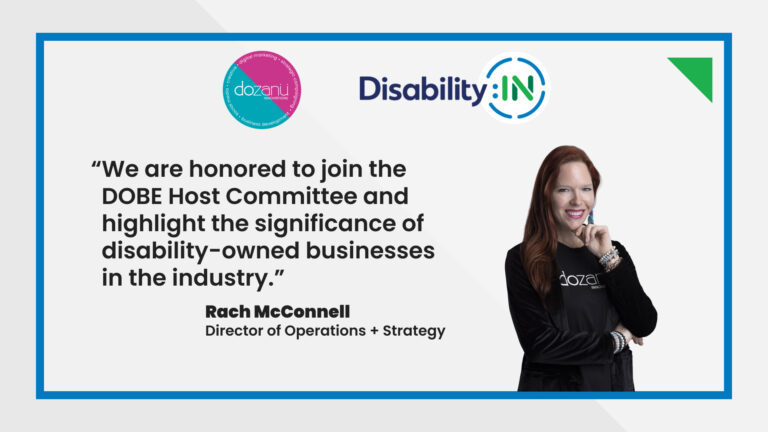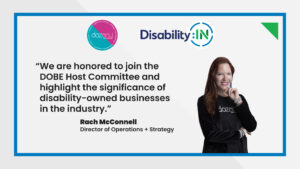 AUSTIN, TX – July 5, 2023 –  dozanü innovations, the pioneering marketing agency dedicated to promoting accessibility and inclusion, is thrilled to announce its participation as a member of the DOBE Host Committee for the upcoming Disability:IN Conference in Orlando from July 10-13. By joining the DOBE Host Committee, dozanü is proud to amplify the presence and impact of disability-owned businesses in the industry.
The Disability:IN Conference is a highly anticipated event that brings together industry leaders, professionals, and advocates to advance disability inclusion and accessibility in the workplace and society. As a member of the DOBE Host Committee, dozanü will play a vital role in shaping the conference's agenda and activities, ensuring that disability inclusion and accessible marketing are at the forefront of discussions and initiatives.
The DOBE (Disability-Owned Business Enterprise) certification is granted by Disability:IN, a leading organization for supplier diversity, to businesses that are at least 51% owned, operated, controlled, and managed by a person with a disability. This certification provides disability-owned businesses with increased access to contracts offered by large corporations and market advantages over competitors. As a group considered to be 'disadvantaged' in the U.S., disability-owned businesses are often more attractive to large businesses involved in national, state, and local supply chains.
"We are honored to join the DOBE Host Committee and highlight the significance of disability-owned businesses in the industry," said Rachel Burton McConnell, Director of Operations and Strategy at dozanü innovations. "By working together with fellow committee members, we can amplify the voices of disabled entrepreneurs, promote their unique contributions, and create a more inclusive business ecosystem."
Joining dozanü on the DOBE Host Committee are esteemed organizations committed to disability inclusion and accessibility. The fellow DOBE Host Committee members include Orange Lab, Couranto Disability Inclusion Solutions, MCPADNET Consulting, Revolution Trucking, and TDG Scientific. Together, these organizations will work closely to enhance the conference experience and drive positive change in the industry.
As a recognized thought leader in accessible marketing, dozanü innovations has consistently delivered transformative campaigns that exemplify the power of inclusive marketing. By joining forces with the DOBE Host Committee, dozanü is proud to advocate for disability-owned businesses, promote accessible marketing practices, and inspire attendees at the Disability:IN Conference.
To learn more about accessible marketing and how dozanü innovations can help your business create inclusive campaigns, please visit www.dozanu.com/accessible-marketing-2023 or email [email protected].
Media Contact:
dozanü innovations
323.287.5685
@dozanuinnovations