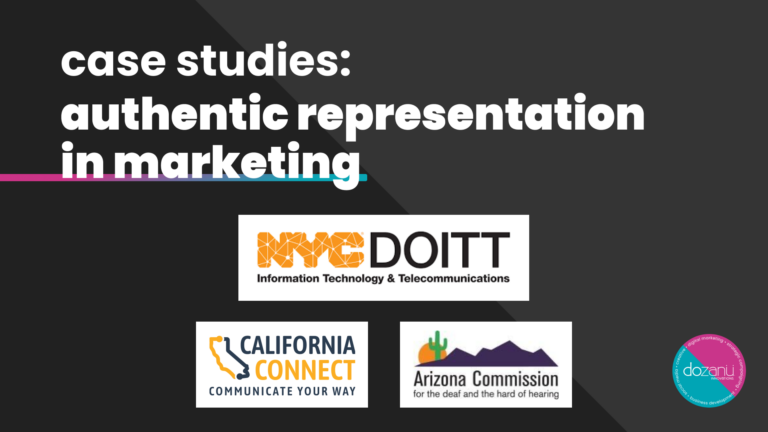 Austin, TX (February 1, 2023) — dozanü innovations, a full-service marketing company with expertise in accessibility and inclusion has published three case studies featuring the key accessibility considerations faced by clients of the agency. Examining the three projects show a clear link between authentic representation and a nuanced understanding of audience members with disabilities. 
"Accessible Marketing is the process of eliminating any barriers that are potentially imposed in your marketing, but it's easier to incorporate more intentionally accessible marketing with these case studies." said Katherine Lees, co-founder and co-owner. "These case studies feature how first-hand experiences in making marketing campaigns and materials accessible has helped our clients reach a larger and meaningful audience."
The City of New York's Text-to-911 Campaign was an effort by the city to deliver their new Text-to-911 campaign to two niche audiences: the deaf and hard of hearing population and survivors of domestic violence. Approximately 208,000 deaf and hard of hearing people reside in New York City, and two in every five reported assaults citywide are related to domestic violence. In fact, 17% of all homicides in the city began as domestic violence. Through our work with a video production that included accessibility components, flyers, palm cards, landing page, and other assets, 570,100 people were reached and campaign information was shared 1,128 times.
California Connect is a program provided by the California Public Utilities Commission (CPUC) as part of the Telecommunications Accessibility Program. Eligible individuals receive free assistive telecommunications equipment through the program — which poses a challenge when marketing efforts include telecommunications channels. Tasked with increasing the program's reach, dozanü engaged targeted audiences through multichannel marketing efforts. California Connect's message reached 1.86 million people through social media advertisements and 2.48 million through digital advertising, and engagement increased 26,400% from project start. 
In Arizona, the state Commission for the Deaf and Hard of Hearing (ACDHH) faced a challenge that is not unique in the deaf community: a low employment rate. To counteract this, dozanü provided accessibility focused consulting services for ACDHH and their communications team on their Let's Get To Work employment initiative that addressed employers to raise awareness about the benefits of hiring the deaf and hard of hearing population.
All three have one common thread: to best utilize the types of marketing to deliver the right message to the right consumer at the right time. The three case studies draw on dozanü's firsthand experience as marketing experts with disabilities. "The more effort you put into your marketing today, the bigger of an impact you will make," remarked Michelle Lapides, co-founder and co-owner.
About dozanü innovations
Your one-stop marketing team specializing in alternative perspectives delivering innovative, modern marketing and business strategies that focus on inclusion. Services include creative marketing, digital marketing, social media, business development, and strategic campaigning. To learn more about how dozanü innovations curates unique messages and empowers brands, visit www.dozanu.com.