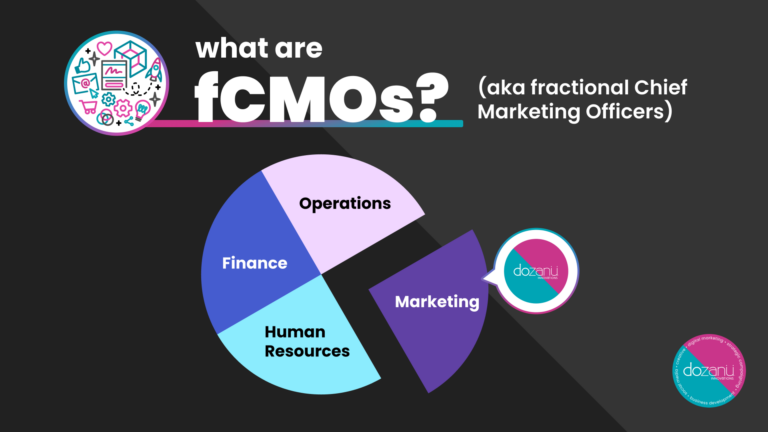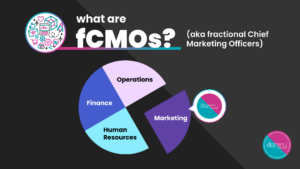 Are you a business owner, entrepreneur or executive looking for ways to take your business to the next level? You've likely heard of CMOs (Chief Marketing Officers), but recently, an even more cost effective and flexible option has become available: fCMOs, or fractional Chief Marketing Officers. This new role is revolutionizing marketing strategies, enabling companies that lack the resources to hire a full-time CMO to benefit from the expertise of these highly qualified professionals for a fraction of the cost. In this article we will discuss what exactly an fCMO is and how they can help businesses reach their marketing goals.
In the ever-evolving world of marketing, staying ahead of the competition requires a strategic and holistic approach. For businesses of all sizes, having a seasoned marketing professional to guide and drive growth is crucial. Enter the Fractional Chief Marketing Officer (fCMO) – an innovative solution provided by dozanü innovations that is revolutionizing the way companies approach their marketing strategies. In this blog post, we will explore the concept of fCMOs and shed light on how dozanü innovations is leading the charge in delivering exceptional marketing services to businesses worldwide.
What is a Fractional Chief Marketing Officer (fCMO)?
A Fractional Chief Marketing Officer, or fCMO, is a highly experienced and versatile marketing professional who partners with businesses on a part-time or project basis to provide strategic guidance, expertise, and execution of marketing initiatives. The fCMO operates as an extension of a company's internal team, collaborating closely with key stakeholders to develop and implement effective marketing strategies tailored to the organization's unique goals and objectives.
The Advantages of Choosing an fCMO:
Expertise on Demand:

Hiring a full-time CMO can be costly for many businesses, especially startups and small to medium-sized enterprises. The fractional model offers access to top-tier marketing talent without the financial burden of a full-time executive. With an fCMO, companies can tap into a wealth of experience and industry knowledge on an as-needed basis, optimizing their marketing budget.

Strategic Guidance and Planning:

fCMOs bring a fresh perspective and a wealth of strategic thinking to the table. They assess the current marketing landscape, identify opportunities and challenges, and develop comprehensive marketing plans aligned with the company's overall objectives. By leveraging their expertise, fCMOs ensure that marketing efforts are cohesive, targeted, and designed to drive tangible results.

Flexibility and Scalability:

The nature of fractional engagements allows businesses to scale their marketing efforts according to their evolving needs. Whether it's launching a new product, entering a new market, or adapting to industry trends, fCMOs provide the agility and adaptability necessary to navigate the dynamic marketing landscape effectively.

Holistic Marketing Solutions:

dozanü innovations' fCMOs possess a deep understanding of various marketing disciplines, including digital marketing, branding, market research, content strategy, and more. This comprehensive skill set enables them to address multifaceted challenges and integrate various marketing channels into a cohesive and effective strategy.
dozanü's Pioneering fCMO Services:
As a leading marketing company, dozanü innovations stands at the forefront of delivering exceptional fCMO services. Their team of seasoned marketing professionals brings a wealth of experience across diverse industries, enabling them to understand the unique needs of each client they serve.
Working closely with clients, dozanü innovations' fCMOs develop a comprehensive understanding of the business's vision, goals, and target audience. From there, they formulate tailored strategies that leverage cutting-edge marketing techniques and technologies to deliver maximum impact and ROI.
By engaging with dozanü innovations, businesses can expect a results-oriented approach, strategic guidance, and seamless integration of marketing initiatives. The fCMO not only brings their expertise but also fosters collaboration and knowledge sharing within the client's organization, empowering internal teams and leaving a lasting impact long after their engagement concludes.
In an era where marketing plays a pivotal role in business success, having access to top-tier expertise is paramount. fCMOs offered by dozanü innovations provide a powerful solution for companies seeking strategic marketing guidance without the costs associated with a full-time executive. With a focus on agility, expertise, and a results-driven approach, fCMOs empower businesses to unlock their marketing potential, stay ahead of the competition, and achieve sustained growth in today's dynamic marketplace.
Partner with dozanü innovations and harness the power of fractional leadership to revolutionize your marketing strategy and drive your business to new heights.